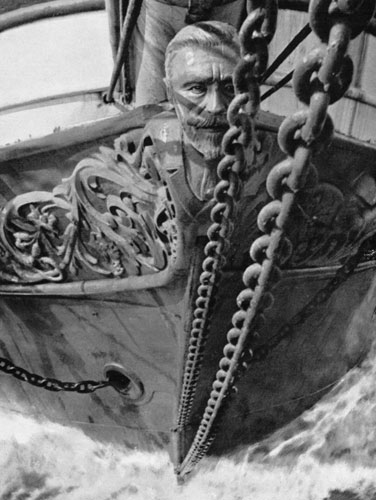 He renamed the Georg Stage the Joseph Conrad, and she became his training ship, setting sail with a crew of international apprentices around the world. The figurehead of the ship, which he sold in 1936 to a passing millionaire in New York harbour, is pictured here. The Joseph Conrad now resides in the Mystic Seaport Museum in Connecticut.
The Joseph Conrad is a sailing ship originally launched as the Georg Stage in 1882 and used to train sailors in Denmark, then bought in 1934 and renamed by Alan Villiers for a round-the-world cruise, and later used for training by the United States. Joseph Conrad is now a museum ship at Mystic Seaport in Connecticut.
Villiers saved Georg Stage from the scrappers and renamed the ship in honor of famed sea author Joseph Conrad. Villiers planned a circumnavigation with a crew of mostly boys. Conrad started from Ipswich on October 22, 1934, crossed the Atlantic Ocean to New York City, then down to Rio de Janeiro, Cape Town, and across the Indian Ocean and through the East Indies. After stops in Sydney, New Zealand, and Tahiti, Conrad rounded Cape Horn and returned to New York on October 16, 1936, having travelled a total of some 57,000 miles.
Villiers was broke as a result of the expedition (although he did get three books out of the episode - Cruise of the "Conrad", Stormalong, and Joey Goes to Sea), and sold the ship to George Huntington Hartford, who added an engine and used her as a yacht. In 1939 he transferred the vessel to the Maritime Commission, who used her for training until 1945. After being laid up for two years, the ship was transferred to Mystic Seaport.
In addition to her role as a museum, she is also a static training vessel.